LinkedIn isn't just for job searching, recruiting, and growing your network. It's also a valuable platform for sales and marketing. With 850 million users in 200 countries and regions worldwide, as well as powerful targeting tools, it should be a go-to channel for your business. Why? LinkedIn can help you: 
Generate new leads at lower cost 
Tell your company's story
Strengthen referral relationships and grow word-of-mouth marketing
Promote career opportunities
Build brand trust
It's easy for big brands to grow their following on LinkedIn, but smaller businesses can struggle. Whether you're just starting or want to take your Company Page to the next level, growing your following will help your business. 
What are the most effective ways to go about building a LinkedIn following? Business owners and leaders have many demands on their time, and it's important to know how to maximize return on investment. In this article, we share tips on growing your LinkedIn following.  
Create or Improve Your LinkedIn Company Page
Make a lasting first impression with a good LinkedIn Company Page—it's what your customers, employees, vendors, partners, and other audiences all see. LinkedIn Company Pages are free and give you plenty of opportunities to promote your products or services and tell your company's story. 
Individual organizations, companies, and institutions can all create Company Pages. Once created, the page can be easily found by LinkedIn members. 
The best LinkedIn Company Pages include: 
Company headline explaining who you are, what you do, and why you do it in one simple, clear sentence
Logo and header, also known as the banner image
Company description, or a detailed explanation of what you do that incorporates industry-specific keywords to help you show up in search results 
Company location, including physical address and contact information
Other basic information, like your industry, the number of employees, when your company was founded, and your website URL
Ensure the basic information for your Page is complete. LinkedIn research shows that complete Company Pages receive nearly twice as many visitors as incomplete Pages. 
Use Follow Buttons and Page Links to Grow Your LinkedIn Following
Use simple existing tools to grow your followers: 
Add a Follow button to your company website
Add a link to your Company Page in your email signature, with a simple "Follow us on LinkedIn" 
Add a link to your Company Page in your personal LinkedIn profile
Encourage your employees to do the same 
Post Content to Your Company Page
Give followers and prospective customers a reason to visit your Company Page regularly, and to share what your company is doing. Regular content will increase engagement, boost reach (or the number of people who see your content and your Page), and grow your LinkedIn following. Even posting weekly can drive more engagement. (Wondering what to post? We can help.) 
Invite Your LinkedIn Contacts to Follow Your Company Page
Be sure to tap into your existing network to grow your LinkedIn following. Follow these easy steps if you're a Company Administrator (or ask your Administrator to do it): 
Log into LinkedIn
Navigate to your Company Page
Select Admin Tools and choose "Invite Connections" 
Choose contacts you wish to invite (select each person you wish to invite, or use the search bar at the top of the page for specific people)
Click "Invite Connections"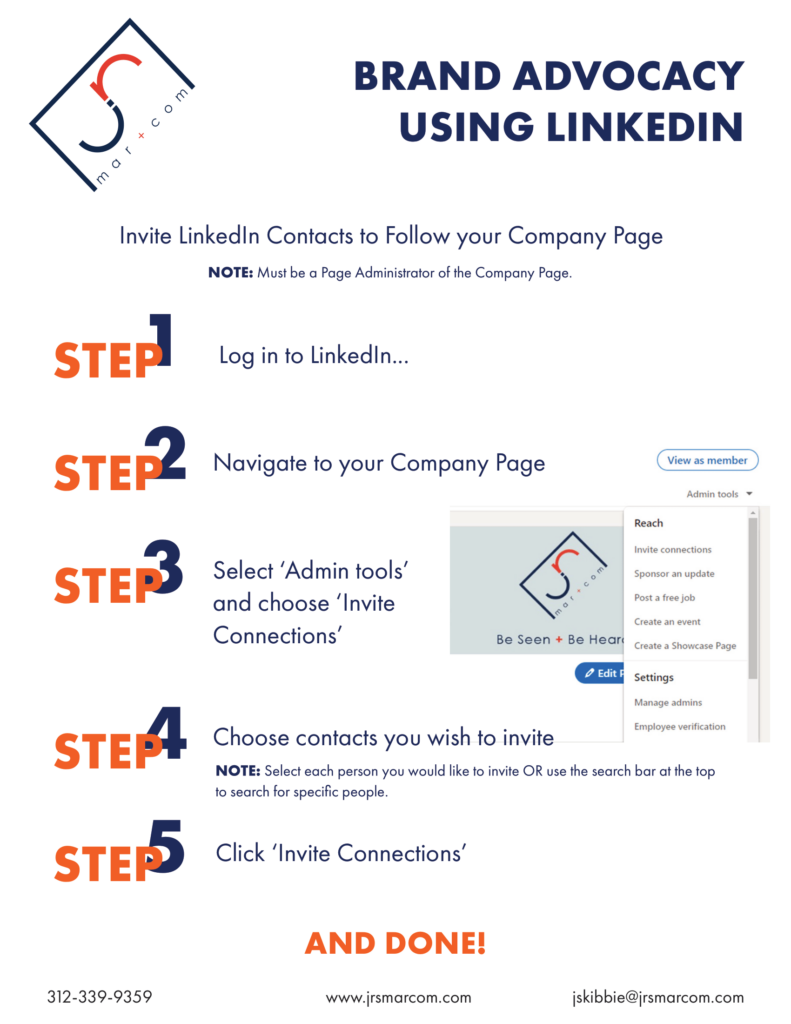 Leverage the power of your employees' networks by asking them to consider doing the same. 
Investing the time in effectively growing your LinkedIn following can help you unlock the platform's potential to market and grow your business. 
Looking for more guidance? We can help. Reach out to us to discuss.