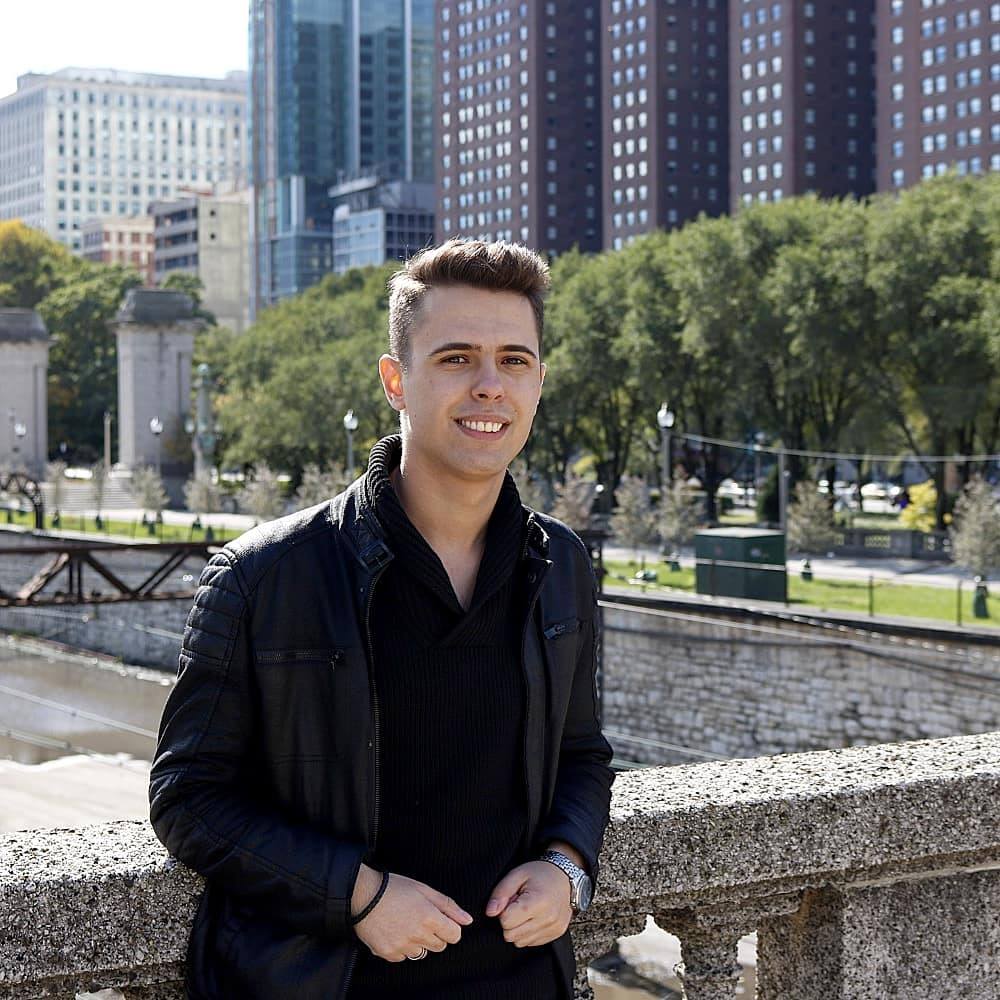 JRS MAR/COM is excited to announce and welcome Stefan Andrei as one of the company's newest Digital Marketing interns. As one of his duties, Stefan will be assisting with social media management, strategy, and implementation, willing to get involved and leverage his skills in all of the Digital Marketing projects, especially those including SEO and Web Design.
Stefan attended the University of East London, where he studied Media and Communication for his first 2 years of undergraduate. He decided to follow his dream and move to the US, as being offered an opportunity of continuing his studies in such a great city as Chicago.
He is currently a rising senior at Columbia College Chicago, pursuing a Bachelor's of Art Degree in Marketing and Digital Strategies. His first year as a student in Columbia College was full of surprises and achievements, as he became an active member of several clubs such as PRSSA (Public Relations Student Society Of America) and the Advertising Club. Stefan attended and helped organizing events for ISO (The International Student Organization) and for the International Film Festival and became a motivational speaker for SEZ-MOI monthly event, which allows students to have self-expression and to perform publicly in music, poetry and other fields.
Throughout his junior year, he had the chance to grow his network and encounter like-minded individuals, some of whom had become his mentors. Stefan was fortunate enough to have amazing instructors in all his classes, assigning him with agency projects and offering him valuable feedback. Stefan's work from this academic year reflects his involvement and passion for marketing and brands as he developed a Marketing Research Report and a proposed strategy for Crocs that he had pitched to a panel of marketing industry professionals. Other projects of his entail social media plans for a restaurant business from the north side of Chicago and for retail brands such as Levi's. These projects have been beneficial for getting hands-on industry experience, adding a great value to his portfolio.
He is simultaneously administering his own e-commerce jewellery business that he had launched several months ago. There, he had the chance to get more exposure to digital marketing, operating on social media and search engines, using organic and paid search advertising to raise awareness and drive sales for his products.
Stefan is a strong advocate of diversity and inclusion, marketing himself as a multicultural individual, who sees his culture as a part of his brand identity. Originally from Romania, he is fluent in Romanian, French, and English. He was born and raised in Romania until 15 years old; then moving to France and London afterwards, where he attended high school and college. His diverse cultural experience made him the person that he is today.
Moving to Chicago was a big transition for Stefan, as he encountered a multitude of challenges on his way. However, he found ways to make this city feel like home. Some of his passions are traveling, cycling and literature.
During this summer, Stefan will be contributing with strategic digital media plans for our clients, as well as creating content marketing and social media management. He is excited to get involved in all of our projects and obtain a more in-depth understanding of SEO and Website Design.
JRS Mar/Com offers Content Marketing & Communications services targeted at small and mid-size businesses. Our work in Digital Marketing Strategy helps your business attract and retain clients via your website using social media channels, search engine optimization (SEO), and electronic messaging.
He has high ambition for this company, and he hopes to leave an exceptional impact by the end of the summer!